Project OGA MNSH
General
| | |
| --- | --- |
| Country: | United Kingdom |
| Location: | Offshore, Mid North Sea High |
| Blocks: | Unknown |
| Coordinates: | 44°07'46" N / 60°06'00" |
| Acquisition: | 2015 |
| (Re)processing: | 2015 |
| Value added Products: | 2017 |
| Data summary: | OpendTect project with 2D Seismic Data, Wells, Horizons, Faults, Gravity and Magnetics data. |
| Size: | 12 GB (uncompressed), 11 GB (download) |
| License: | Open Government License v3.0 |
| Download: | |
| 2D angle stacks in CBVS format: | Download, unzip and copy-paste into the project's Seismics folder. |
Survey Parameters
| | |
| --- | --- |
| Survey type: | Only 2D |
| Inline range and step: | 1000, 5200, 1 |
| Crossline range and step: | 1000, 6200, 1 |
| Z range and step: | 0, 8, 0.004 Time |
| Inline bin size (m/line): | 100 |
| Crossline bin size (m/line): | 100 |
| Area (sq km): | 218494 |
More Info
Geological Features
Structural interpretation, Seismic Sequence Stratigraphy, ChimneyCube and DHI's.
Full Survey Description
The subsurface data is made freely available to support evaluation of the frontier or underexplored UK part of the Greater 'Mid North Sea High' (the UK sector of the North Sea) under the Open Government License v3.0. The dataset was released in 2016 to stimulate the 29th UK Offshore Licensing Round.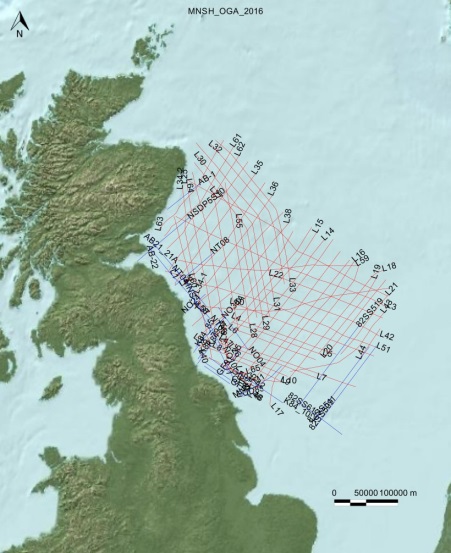 References
MNSH survey description
Open Government License
OGA
Available Data
2D Seismic:

2015 OGA survey - full / near / mid / far / ultra-far angle stacks: 56 lines.
2015 Reprocessed Legacy data - final/raw stacks: 26 lines.
Legacy data - 14 surveys: total of 178 lines.

Horizons:

2D horizons interpreted on 2015 OGA survey and gridded by Schlumberger Data Services:
Water Bottom
Top Chalk
Base Chalk
Upper Permian (Zechstein)
Base Zechstein

WellsLogs:

Well database contains 98 wells:
Well tracks from CDA.
Checkshots from CDA.
Well logs: raw logs from CDA and joined logs from Schlumberger Data Services.
Well tops from BGS.
Note: In OpendTect time surveys all wells must have Time-Depth models, therefore wells without any such data use an arbitrary model based on constant velocity of 2000 m/s.

Faults:

18 fault stick sets (Schlumberger Data Services).
| | |
| --- | --- |
| Please use an up to date version of Chrome, Firefox, Edge (on Windows) or Safari (on Mac) | |